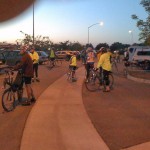 Okay, so the Davis Bike Club 400k was last Saturday. It ended at 2332 for me, anyway (Brevets use a 24-hour clock). It was a good ride. Not as fun as the Fleche two weeks earlier, but worth riding.
It began fast. I stuck with the lead group for the first 30 miles, and we covered it at an average pace of just over 20 mph. That's kind of fast for some of us, and way too fast for that long of a ride. But here in the Central Valley, if you can jump on a fast train, you take it. Makes those flat miles disappear.
I slowed down once we got to the hills. Hooked up with Glenn and Karen, two people from our Fleche ride. A little later we found Paul, who led our team on that ride. The four of us stuck together, with various other riders coming and going, for the rest of the ride.
The weather was great, the climbs not too bad, the wind with us and against us . . . nothing to complain about, really. But even though the ride covered a lot of the same ground as the first part of the Fleche, it just wasn't as fun. And I think it all comes down to attitude. On the Fleche, we had to take our time to adhere to the rules. The 400k brevet, like all brevets, has a deadline (27 hours), plus windows of time in which to make each checkpoint. And even though 27 hours is more than generous, there is something about the thought of missing a deadline that is compelling. That adds pressure to the ride. And that pressure manifests itself in different ways.
There were times I really wanted to ride alone. But riding with a group, I would think about losing the advantage of resting while someone else took the lead, especially in a headwind. There were times I was riding too fast – like the stretch of Silverado Trail from Calistoga back down to Rutherford where we latched onto the only tandem. But while I wanted to go slower, I enjoyed the idea of getting through that stretch quickly, as it was filled with cars rushing past anyway.
Which made me wonder why I was riding 250 miles if all I wanted to do was rush through it.
The lowest point for me was just after the turnaround by Lake Sonoma. On the one hand, it was great to be headed home. On the other hand, it was the hottest part of the day, I had ridden 130 miles, and I still had 12o miles to go. I was riding with a large group (10 or so), and we were on Dry Creek Road in Sonoma – wine country. And, as it was a nice warm Saturday in spring in Sonoma, there were hordes of cars carting people around to wine tastings, parties, etc. Which was fine. But the people I was riding with were riding two and three abreast, spilling over into the road and slowing down traffic. And it seemed like no amount of yelling "Car back!" was going to get them out of the car lane and back into the bike lane. I found myself angry at the arrogance of cyclists, and angry with people with whom I had spent so much time.
See what I mean? All mental. Little mind games. Small things getting larger due to fatigue. Or maybe just riding with the same people too long. Not sure. But food for thought nonetheless.
I pulled out of it. A quick espresso at Jimtown helped, as did getting on smaller, less-crowded roads. The night riding was great. We picked up a cold wind in Vacaville, but it was behind us and gave us a great push home.
As for riding 250 miles . . . that didn't seem and harder than 200, which isn't any harder than 130. Now, if the last 35 miles was into a cold headwind, instead of a tailwind, I would probably say that riding 250 miles is much harder than 200. But I lucked out. Again.
Next organized ride is the Davis Double Century. I've said this before, but I'll say it again: I hope I can muster the self-discipline to ride it slowly. I'm already thinking of date bars in Winters, espresso in Middletown, ice cream in Guinda . . .